Contact Us -- Mid-Cities Office Detail Map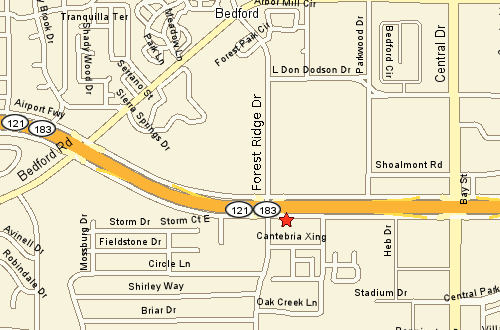 General Directions to Mid-Cities Office:
At the DFW International Airport, take the South Airport Exit and head west on Highway 183.
Travel approx. 4.6 mi. on Highway 183, and take the Central Dr./Forest Ridge Dr. exit.
Go approx. 0.5 mi. west on the service road, and make a U-Turn at Forest Ridge Dr.
The Mid-Cities Office is on the eastbound service road, on your right.
To DFW HDQ Map
To Dallas Office Map
| | |
| --- | --- |
| Dallas Office: | Mid-Cities Office: |
| 8070 Park Ln | 1600 Airport Fwy |
| Ste 400 | Ste 330 |
| Dallas, TX 75231 | Bedford, TX 76022 |
| Tel. (972) 699-8000 | Tel. (817) 267-9038 |
| Fax. (972) 437-4562 | Fax. (817) 267-9048 |
You can get directions from your location (for instance, from your hotel) to our Mid-Cities office by putting your location's address in this form and clicking "Get Directions":